How to Recover Deleted Sticky Notes in Windows 7/8
Filed in » Problems and Solutions

Submitted by Nyau
This post explains how to recover deleted sticky notes widget in Windows 8/7/8.1/Vista if you were previously using it as one of your gadgets and it was accidentally deleted or simply went missing.
This tutorial, however, will only guide you to retrieve whatever data you have had in your sticky notes by opening the saved data using a text program such as the Wordpad. There isn't anyway to import the old saved stick notes into a new one.
This method will also comes in handy if your Windows was dead and you want to recover whatever you can from your sticky notes, provided if your hard disk is still accessible from another computer. Please take note that the recovered sticky notes data will appear to be messy depending on how fancy the texts in your notes used to be. There will be tags before and after the text or a phrase for each type of styling you used on your sticky notes. However, opening the saved data using a Rich Text Format supported document reader may help sort things out.
How to Recover Deleted Sticky Notes in Windows 7/8
If you've ever deleted your sticky notes by accident, or simply want to recover your notes from a dead Windows, there will still be something of a ghost remaining in the file where Sticky Notes save the notes to. This file can be found in %AppData%\Microsoft\Sticky Notes\StickyNotes.snt Copy and paste this directory line into any explorer window, and then press Enter.
This file will not be deleted as long as your hard disk isn't dead or formatted. Beware that some anti-virus programs will detect it as a threat hence removing it. You may want to first temporary switch off your anti-virus program or whatever security program you are using before accessing to the file.
Open the file with WordPad, notepad or whatever text reader you have.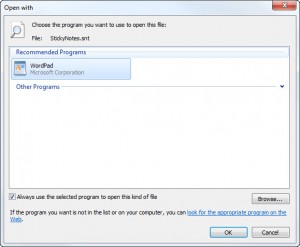 If you have some heavy formatting in your previous sticky notes, you may see lots of unknown tags. Then you will have to deal with RTF (Rich Text Format) yourself. Try to open it using a variety of other document/text readers. Some may be able to render the formats and return results as how they were in your sticky notes.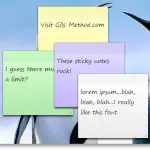 Addon: As far as we know, there isn't a way to replace the recovered sticky notes with a new note. If you know how to do it, we will be more than happy to hear the trick from you.
Share and Like!
Looking For Something?