Compatibility Mode Windows 8/7/8.1/XP | Run Programs in Previous version Windows
Filed in » Problems and Solutions

Submitted by Nyau
If there is any program you were trying to run returned an error upon launching, you can try running the program on an earlier/previous version of Windows by using a feature in Windows we called Compatibility mode in Windows 8/7/8.1/XP.
Programs are not always updated to be able to run in the latest release of Windows version such as Windows 8.1/8. If you there's any program that just couldn't run on your new Windows, there can be a chance that it is only compatible with the earlier version of Windows OS. Well, if you have such older program, software or application that can only be run on Windows version as earlier as Windows XP, it's not the end of the road yet. You can force running them on a compatibility mode of any (earlier) version of Windows of you choice.
There are two methods to set a program to run in windows compatibility mode in Windows 8/7/8.1/XP.
Run Programs in Compatibility Mode Windows 8/7/8.1/XP/Vista
Right click the icon of the program that you want to run in compatibility mode, select Properties and go to the Compatibility tab.
You should be able to see this window now. To run the program in compatibility mode for Windows that your program supports, simply check the check box for Run this program in compatibility mode for. Then select the version of windows the program supports up to. Click Ok and run the program. The program should run fine now.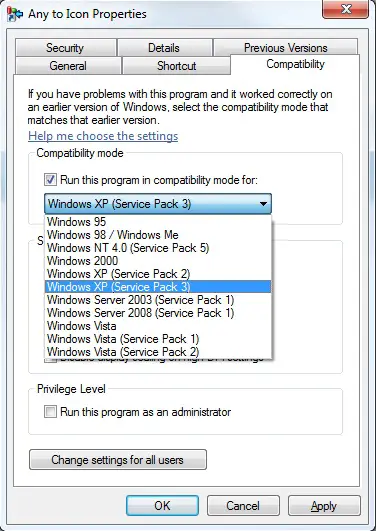 Supported version of Windows Compatibility mode: Windows 95, Windows 98 / Windows ME, Windows NT4.0 (Service Pack 5), Windows 2000, Windows XP (Service Pack 2), Windows XP (Service Pack 3), Windows Server 2003 (Service Pack 1), Windows Server 2008 (Service Pack 1), Windows Vista, Windows Vista (Service Pack 1), Windows Vista (Service Pack 2), Windows 8, Windows 8.1 Compatibility mode
Run Programs For Previous Versions Of Windows | Compatibility Mode Windows 8,7,8.1,XP,Vista
This is just another much simpler method to troubleshoot your program to see if it has a Windows compatibility issue and set the program to run on a detected supported earlier version of Windows.
Open the Program Compatibility Wizard by going to Start, type Compatibility in the search box, click on the Run Program made for previous version of Windows link from the search result.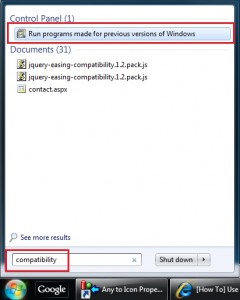 Go through the wizard until you see a program list. From the list, select the program you're having problems with and click Next.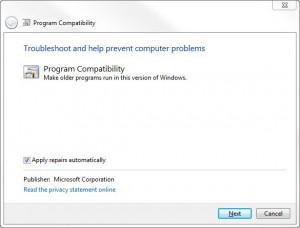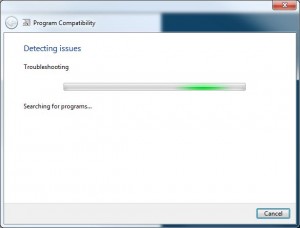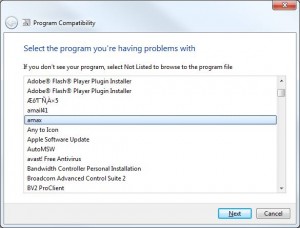 Select Try recommended settings first and see if your problem can be resolved. If it still won't work, you can try the second option – Troubleshoot program.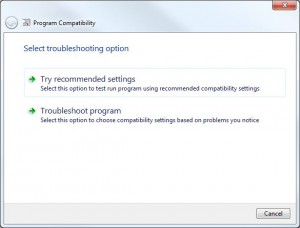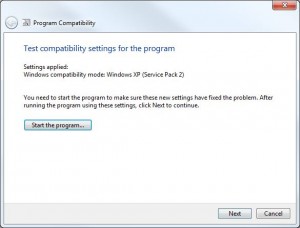 If whatever error or problem you received upon launching your program is due to Windows compatibility issue, this would usually work.
Note:
If changing the Compatibility settings does not fix your problem, check on the software's official website to see if there is an update for the program.
Do not use compatibility mode on older antivirus programs, disk utilities, or other system programs because it might result in data loss or create potential security risks.
Other features of Compatibility Mode
As what you can see from this window, you can actually change the settings for a program in many different ways such as run in 256 colors, run in 640×480 screen resolution, disable visual themes, disable desktop composition or disable display scaling on high DPI settings. Check or uncheck the settings you want for your program.
You can also set your program to always Run as administrator whenever you double click your program, instead of having to right clicking it and select Run as administrator every time you want to run the program. To do so, simply check the check box for Run this program as an administrator under Privilege Level section.
Share and Like!
Looking For Something?