How to Increase Windows Experience Index Scores Windows 8.1/7/8
Filed in » Interesting Tricks

Submitted by Nyau
This tutorial will show you a little just-for-fun trick about how to alter, change and increase your Windows Experience Index Scores without improving your hardware.
Windows Experience Index was first introduced in Windows Vista, back then the maximum score of each aspect was 5.9. When Windows 7 came to the market, Microsoft has increase the top score to 7.9 in order to catch up with all the new emerging hardware like quad core, i7, solid state drive, latest graphic cards and more. The main purpose of WEI is to benchmark and compare among computers. In this tip, we will show you how you can play around with this trick to have fun with your friends. Disclaimer: Proceed at your own risk.
Update: The Windows Experience Index Scores (WEI) has been removed from preview in Windows 8.1.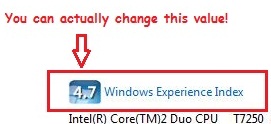 How to change/increase/improve windows experience index scores rating?
1. Go to C:\Windows\Performance\WinSAT\DataStore
2. Find a file with name starts with Formal.Assessment. If you only have the Initial, then open it for edit. If you have a Recent, open the most recent for edit.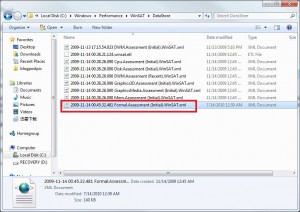 3. Press Ctrl+F to find the string "SystemScore". From there you can change the value in between the tag to your desired index rating. You can also change all the following values for Memory, CPU, GPU and disk scores etc. They are located right after </SystemScore>.

4. After editting, save the file. If you encounter error message "Access is denied" when you try to save the file, you'll have to run wordpad as administrator, then open the above mentioned file, edit and save it.
5. Now your score should show the value of what you've entered.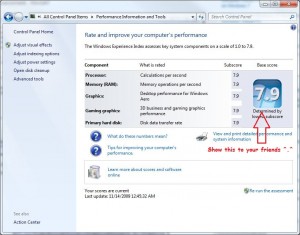 How to reverse my score back to normal?
Simply re-run the assessment!
If the scores do not change back to normal after the assessment, you'll have to delete all the files in the folder C:Windows\Performance\WinSAT\DataStore and then re-run the assessment again.
Now you can show off your mighty fake Windows Experience Index Scores to your friends and have them surprised.
How to Improve Windows Experience Index Scores for real
If you are looking to seriously improve the WEI scores by upgrading your hardware, get a middle-higher class graphic card, an i5 or i7 processor, larger amount of quality RAM and most importantly a decent solid state drive. Since the general WEI scores will reflect only the lowest scores among the 5 components, hard drive performance will usually be the key to bring up the score. A solid state drive will give you a huge boost to your WEI scores as all the classic old drives, even those spinning at 7200rpm will not be able to break score 5.0.
Share and Like!
Looking For Something?