YouTube: An Error Occurred, 500 Internal Server, No Recent Activity
Filed in » Problems and Solutions 3

Submitted by Nyau
When I came across a video shared by my friend on YouTube, it ended up showing "An error occurred. Please try again later". Well, I thought it must be something wrong on my side because my friend was able to watch the video. So, I headed to the YouTube homepage and it showed no video at all but a "No Recent Activity" message. I thought it may just be some glitches so I went ahead and open up a previously bookmarked video. This time it showed an 500 Internet Server error along with a bunch of codes that I don't know. Ok, this is very strange because everything works just fine on my other computers. I took some time to figure out how to solve this problem and I'll write about my findings in this post.
I do not represent YouTube and this weblog is in no way associated with YouTube. All that has been written in this post are merely my experiences as an elite user of YouTube and that I think they can be useful to the people who may have met the same problem as I had.
Below is a list of YouTube error messages that I saw. If you see either one, you can try the solutions listed ahead. I can't guarantee that any of these solutions will work out for you. It's up to you if you want to give it a try. If in doubt, please seek help elsewhere.
YouTube An error occurred, please try again later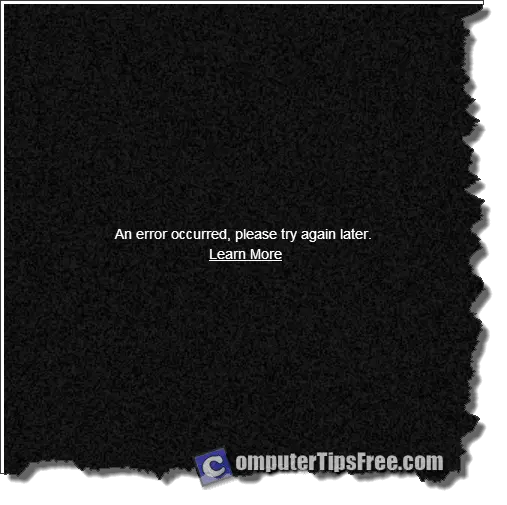 YouTube 500 internal server error
Youtube: 500 Internal Server Error – Sorry, something went wrong. A team of highly trained monkeys has been dispatched to deal with this situation. If you see them, show them this information.
YouTube No Recent Activity – Blank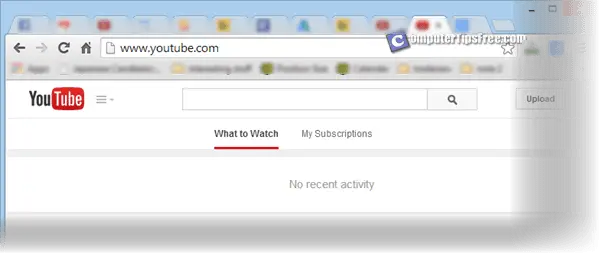 Solutions – YouTube errors
I happened to fix mine randomly and yet I don't know what caused it. So, the best way to sort this out is to try the solutions from the one that does the lightest changes to the heaviest one. Before you try anything, it's best to know that if someone else you know of is having the same problem, it probably means the problem is on Youtube's side. It can be maintenance or something else. In this case, you should just wait for it to get fixed by itself. Chill out and come back later.
Clearing your browser's cache – Chrome, Firefox or IE
Cache means something your browser saves from a webpage so that the next time you visit the same page, you wouldn't have to load them all over again. So, whatever error you're seeing on Youtube may be one of these old caches, and YouTube may have already been fixed. By clearing them, you get to reload a fresh copy of Youtube website.
To remove cache from Google Chrome, click on the wrench icon (or menu icon if you don't see a wrench) from the upper right corner. Go to "Tools", then "Clear Browsing data". Select "Cookies and plug-in datas" and "Cached for images and files", and click "Clear Browsing data".
To remove cache from Mozilla Firefox, go to Tools, Options, Advanced tab, Network tab, and then hit "Clear Now" under "Cached Web Content".
As for IE users, go to Menu, Internet Options, General tab, under Browsing history hit "Delete". Select "Temporary Internet files and website files" or keep the default selection and then hit delete to proceed deleting.
After you've done clearing the cache, relaunch your browser and open Youtube again. It should works now, otherwise continue with the next step.
Restart your computer
The best way to reset things is by restarting your computer. This method somehow solved the problem for me. I have no clue why and how it fixed the problem but if your computer is always running 24/7, it's best to just give it a reboot and see if it solves your problems.
Reconnect your internet / restart your modem and router
Well, this may seems difficult if you have no access to your network's modem and router. Please be warned that this requires you to know what you're doing, and if you don't even know what a router is, do not touch it. We're not responsible for any damage done to your computer or hardware.
Sometimes a modem or a router may appear sluggish and may even kill connections and causes packet loss. By rebooting your modem and router, things will get freshen up, and if your ISP is giving you dynamic IPs, it'll be even better to reconnect into a different IP address just in case if the previous one has already somehow been stucked with something.
If nothing here solves your problem, I'm sorry but you will have to seek help else where. If you find a different solution, please share it with us in the comment section below.
Share and Like!
Looking For Something?