Backupuser.exe, iexplorer.exe, autorun.inf Virus Removal Tool
Filed in » Problems and Solutions

Submitted by Nyau
Backupuser.exe is a malware or virus stored somewhere in your computer that will automatically creates (without your permission) autorun.inf and itself (backupuser.exe) in all drives such as hard disks, newly plugged USB pendrives, etc.
A side note, "backupuser.exe" would sometimes appear as "_backupuser.exe". They would be set as hidden files and can only be seen if you have enabled the "show hidden files" option for your explorer. To enable show hidden files option, open any file or window, click tools, folder options, view tab, under advanced settings, click "Show hidden files and folders".
It also run an infected task iexplorer.exe silently in the background.
Note: The task, iexplorer.exe, is actually referring to Internet Explorer. Thus, whenever you run your Internet Explorer, you will see iexplorer.exe in the task manager. It's not a virus or malware originally if it's not infected.
In this case, perhaps you haven't notice it yet, backupuser.exe will also run iexplorer.exe even if you didn't run any Internet Explorer. We are not sure what it does or what it is for, but it's definitely a threat to your computer.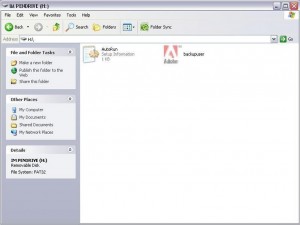 Backupuser.exe, iexplorer.exe, autorun.inf Virus Removal Fix
Delete/Remove backupuser.exe.
To do this, you will need hijackthis which can be downloaded from here (or simply Google hijackthis).
HijackThis inspects your computers browser and operating system settings to generate a log file of the current state of your computer. Using HijackThis you can selectively remove unwanted settings and files from your computer. Because the settings identified in a HijackThis log file can belong to both legitimate software and unwanted malware, it is important to use extreme caution when choosing to removing anything using HijackThis.

HijackThis also comes with a process manager, HOSTS file editor, and alternate data stream scanner.
Warning: The solution requires you to only remove the virus infected executable file which, in this case, the backupuser.exe. If you remove other exe files, it may corrupt your entire system, making your Windows to not able to boot. Please proceed at your own risk!
After finish downloading, install it anywhere you like. Open it, click "do system scan" button, a list of tasks which running in the background of your computer will be shown. Find backupuser.exe at the end of each line, select it and click "fix checked".
Note: DO NOT FIX CHECKED EVERYTHING OR ANYTHING THAT YOU ARE UNSURE WHAT THEY ARE, IT MAY BE YOUR COMPUTER VERY CORE SYSTEM'S TASKS. I would like to make it clear that I am not responsible for any loss or damage you may incur by results of using this application.
After "fix checked" backupuser.exe, restart your computer and it will be GONE forever unless there is any USB flash drive or Pendrive that were infected before being plugged into your computer.
Another solution for this problem is to scan your computer and any drive you have with high ranked antivirus software such as Kaspersky Antivirus or Bitdefender Antivirus. We have tried scanning with the Free Avast Antivirus, but backupuser.exe somehow cannot be detected. Perhaps there are other antivirus softwares which might possibly detect it and clean it right away.
Leave your messages in the comment section below if you have any further problem or better solution that you would like to share with us. Thank you.
Share and Like!
Looking For Something?