GTA 5 Crash PC on Startup, Loading Screen or Random Fixed
Filed in » Problems and Solutions 3

Submitted by Nyau
It's been a while since GTA 5 released on PC, yet there are still many complaints about the game crashes frequently. Some happen when they play online and a few reported that the game crashes even in the single player story mode. The cause of why GTA 5 crashes may vary from person to person. We have listed down most of the possible fixes and solutions and whatever we can find from Google (because our GTA V crashes terribly too).
There are different kinds of crashes being reported in the Rockstar games forum which includes crashing on startup, stuck at the loading screen, crashes randomly where there is no pattern to the crashes, or during specific event such as crashing when your character enter a vehicle and aim with a weapon. Fixes below will not guarantee to fix your problem but they are what the people tested that fixed their GTA 5 crashing problems. Please continue at your own risk.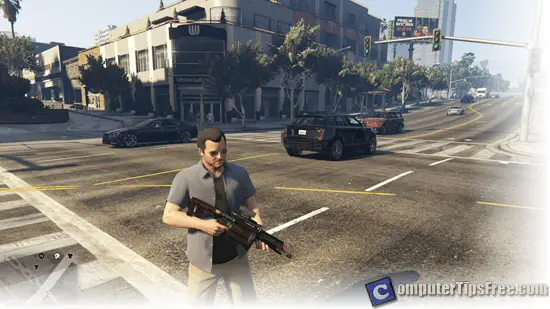 Re-download GTA 5 and its patches (Gta 5 crashes randomly)
If your GTA 5 crashes on some specific event, or randomly with no pattern to the crashes, it could be due to corrupted game files. This should be the very first thing you should try. Re-download the game and patches from the official and genuine sources (of where you purchase the game from). Make sure to completely uninstall the game before you attempt to re-installing it.
Disable/remove/revert Overclock Settings
This fix is only applicable to those who have previously overclock-ed their computers. This is one of the most surprising findings by the GTA 5 geeks. GTA 5 tends to hog up a huge amount of CPU juice when it's running, to a point that it will crash when your CPU is overheating (although sometimes it's not even close to overheating). Well, I know your CPU clocking has probably been tested to work perfectly stable in multiple burn tests, but this is also very much unknown to us because it did fix our crashing problem when we revert our CPU clock to stock value. You may want to try to restore your CPU clock to the default clock and see if it solves the crashing issue.
Try with different GTA 5 patches (GTA 5 Crashes during Story Mode)
If you can apply patches manually, try to apply a patch from an earlier date that you think was the most stable. Whenever a new patch releases, you can certainly see a number of reports about the game crashes. If your GTA 5 started to crash right after applying a certain patch, try to revert it to the previous one.
Make sure GTA 5 Video Memory doesn't exceed the maximum limit
If your GTA 5 graphic settings is too high that it exceeded the video memory limit, it will cause your graphic card to overheat and thus crashing your GTA V game. The game will also get unstable if your graphic card is not fast enough to render the graphics. Try to reduce the graphic settings and see if it still crashes.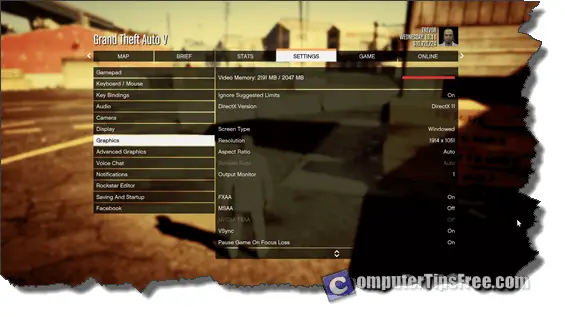 Also, make sure your graphic driver is up to date. Both Nvidia and ATI have released a driver that made especially compatible with GTA 5 a few days after GTA 5 launches on PC.
Set the Landing Page to On (GTA 5 crash when entering vehicle and aim)
The landing page option can be found under Settings, Saving and Startup, Landing Page. If your GTA V is crashing whenever you enter a vehicle and aim, or when there is a character transition across the map, try setting your Landing Page to On. There are many reports about this solving their GTA 5 crashing problems. Make sure to restart the game after applying the changes.
Stay signed into Social Club and leave the launcher running in the background
Some people prefer not to sign in to their social club account and proceed to play the game offline. Well, this has been reported a success in fixing the crashing issue. Try to sign in to the social club before you launch the game and leave the social club window running in the background when you play the game. We have not tested this yet but there are numerous people who fixed their GTA V crashing problem by staying signed into their social club account.
If you have a different kind of GTA 5 problems or any suggestion, please write to us in the comment section below.
Share and Like!
Looking For Something?