Facebook Remove Tag from Photo, Comment, Request or Notification
Filed in » Facebook Tips

Submitted by Nyau
By tagging a friend in a photo, a post or a comment, it means you are attempting to notify your friend about the photo or the post where you tagged your friend. Your friend will receive a notification in their Facebook account whenever someone tags him/her. Tagging also creates a link to the person's timeline profile and this link will be visible to anyone who can see the post or photo.
There has been many cases where people got tagged randomly by some unknown friends (who they probably don't even know) on some non-sense posts or photos. These spammy tags usually come from people who try to market their products via social media portals such as Facebook by tagging everyone they know (these people tend to add people on facebook randomly). Most of the time they use a fake facebook profile to seek attention without revealing who they actually are. In this case, you may want to remove the tags from the posts or photos (which happen to show up on your timeline) made by these people.
Well, if you're the one being tagged and would like the tags to be removed, we will show you how in this tutorial.
Facebook Remove Tag from a Photo
Removing tag from someone else's photo is fairly easy with the new Facebook interface.
First, go to the photo where you were tagged.
Click on the Option from bottom right corner of the photo.
Click on Report/Remove Tag.
Select "I want to untag myself" checkbox and optionally, you can also select "I want this photo removed from Facebook" if the photo seriously offended you and you want your friend to remove it from Facebook.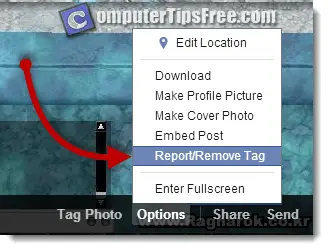 Facebook Remove tag from multiple photos
Some people may ask if there is a way to remove all tags from multiple photos on Facebook at once without the tedious work of untagging one by one. Well, unfortunately there isn't a way to do this yet. You will have manually go to each one to untag yourself.
Facebook Remove Tag in Comment
Go to the comment where you were tagged (from either the notification area or via activity log)
Click on the Edit icon from upper right corner of the post.
Click on Report/Remove Tag.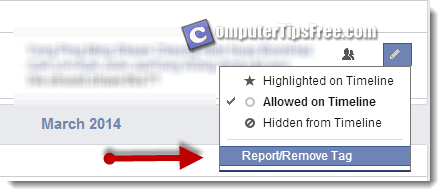 Update: This method doesn't work anymore in the new Facebook interface. We can't seem to find a way to remove a tag from a comment (not a status post) as of now. If you do, please let us know in the comment section below. Well, this seems to be a pretty bad restriction on Facebook. I believe many users like me would need the feature to control how our facebook's names are used when tagged, even, of course, in a comment written by a friend. There are already many examples where the misused of names tagging can lead to pathetic results such as unfriending or even blocking your friend who did the tagging.
Facebook Remove Tag from Status
If you were tagged in a status post, which is most commonly used by spammers to get attention from people like you for whatever they want to promote, here's how you can remove the tag.
Go to the post where you were tagged (also accessible via Activity Log -> Post you're tagged in).
Click on the drop down menu button (or an edit icon)
Click on Report/Remove Tag.
Select the checkbox "I want to remove this tag" and then click on Continue.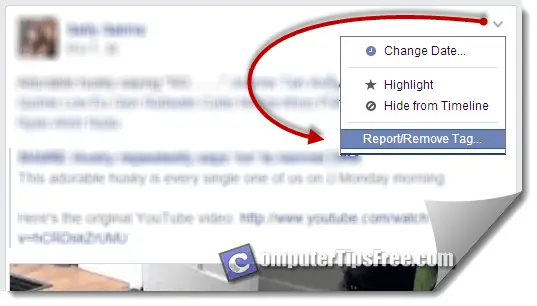 Facebook Remove Tag Request or Notification
When someone tags you, you get notified. I can't see why you would want to avoid it. Well, if you insist, you can turn off the notifications of any request from your friends. From there you can also turn off alerts you don't want to receive such as invitations of events, status posts, photo tags, and many others.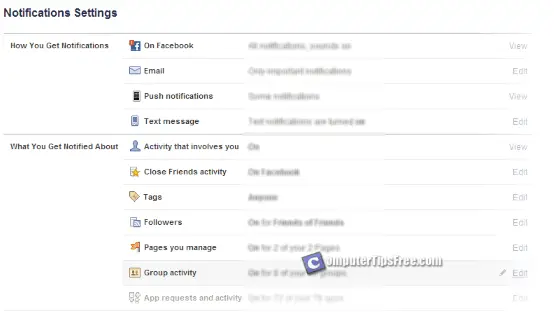 Login to your Facebook Account.
Click on the drop down menu from far upper right of your Facebook page.
Click on Settings then Notification from the sidebar.
From there, you can edit whatever notification you don't want to receive in the future.
Tips: Review a tag before it goes public
This is only applicable if the tag is on a post from your timeline. With this option on, you can review tags your friend add to your own posts before they go public on Facebook. Unfortunately, there's still no way to prevent a friend from tagging you on their posts yet.
From your Facebook account page, click on the drop down menu.
Click on Settings then Timeline and Tagging from the sidebar.
From there, you can enable the review tag feature by clicking the edit link.
Share and Like!
Looking For Something?