Download Internet Explorer Update IE 11/10/9 Windows 8/7/8.1
Filed in » Interesting Tricks

Submitted by Nyau
This post will keep you updated with the latest news, updates and downloads for Internet Explorer 11/10/9/8 in Windows 8/7/8.1/Vista/XP.
In any version of Windows, Internet Explorer would be installed by default and it'll be the first ever web browser you would use to connect to the Internet in a freshly installed Windows. However, they may not be up to date if the Windows is not of the latest version. In Windows 8/7/8.1, Internet Explorer version supports up to IE 11. Windows Vista supports up to IE 9 while XP supports up to IE 8.
Update: You can now download the latest version of IE in corresponding to your Windows version from this page provided by Microsoft. Your Windows version will be automatically detected and the most appropriate version of Internet Explorer will then be suggested to you.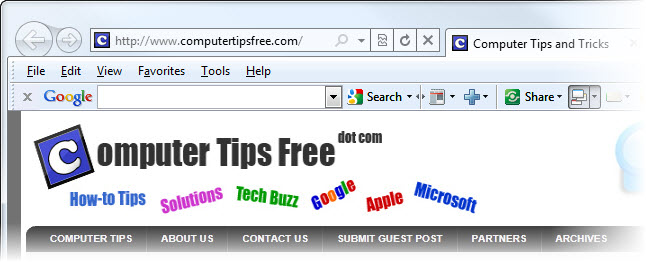 8 Precious Internet Explorer 11/10/9/8 Tips
>
To open a new tab, just Double-Click an area to the right of the tabs boxes, without having to click the little blank Tab Box.
Right-Click a blank area and click Favorites bar to enable the Favorites bar.
Right-Click a blank area and click Command bar to enable the Command Bar.
Right-Click a blank area and click Status Bar to enable the original style Status Bar at the bottom of IE11/IE10/IE9.
To give more space to your Tabs and make the Address Bar smaller, position your cursor between the Search Box and a Tab, when the Cursor switches to the Right/Left arrow, you can click and drag the Address Bar to the Right or Left to either enlarge or make it smaller. Read more: What if you feel IE 11/10/9 address bar is too short
Click the ALT key, and then click View on the Menu Bar, click Style and select No Style to View the Webpage without Webpage formatting. Click Default Style to change the Webpage back to default.
Hover over the Tools icon at Right and under Safety, click InPrivate Browsing to Start the InPrivate Browser Mode. Read also: How to Set Internet Explorer 11/10/9 to Open in InPrivate Mode Automatically
If you are having problems viewing webpages, click the ALT key on your keyboard and under Tools, click Compatibility View.

More Tips, Tricks and Tweaks for Internet Explorer 11/10/9

Share and Like!

Looking For Something?