ISDone.dll ISArcExtract Unarc.dll Error Download Fix
Filed in » Problems and Solutions 2

Submitted by Serene
ISDone.dll, ISArcExtract or Unarc.dll was not found while installing a program. Well, this happens very often to me, too often that I think it can be very helpful to share what I found with you guys. These error messages will usually appear during the installation of programs, applications or games. These errors tend to happen when your setup files are corrupted or that the system's dll files mentioned are either corrupted or missing. It can pop out before the installation starts or in the middle of installation. The causes of these errors can vary from case to case.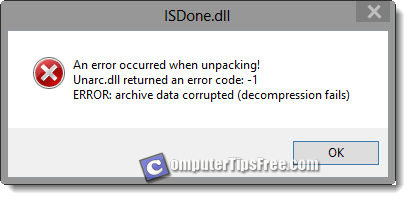 Related Post: Fix: Windows Installer Error 1603 – Fatal Error During Installation
Possible "ISDone.dll ISArcExtract Unarc.dll" error messages:
ISDone.dll It is not found any file specified for ISArcExtract
ISDone.dll An error occurred while unpacking: archive corrupted!
Unarc.dll returned an error code: -7 -1 or -14
Error: archive data corrupted (decompression fails)
ISDone.dll No results file specified for %s
ISDone.dll It is not found any file specified for IS7zipExtract
ISDone.dll ISArcExtract Unarc.dll Downloads and Fixes (32-bit or 64-bit)
Solution 1: First you may want to re-download your program. Ironically this is frequently the fix for this problem. This solution doesn't come without a reason. The error is telling you that, either your files are corrupted, or one of these dll files are missing from your system. Why would I prioritize this fix as the primary solution? Well, it's because 8 out of 10 times I received such error are due to corrupted files. How can they be corrupted if they are downloaded perfectly? You wouldn't know if it is in perfect condition unless you can recheck its hash. Files tend to corrupt easily if the download is paused and resumed frequently. So, try this out first before you touch anything else. If your files is so huge that you would rather sacrifice trying other methods than waiting all over again, go to solution 2.
Solution 2: Depending on what error message you received and what dll files the error message was telling you that they are missing. Download the specific dll files, and put them in your Windows/System32/ folder. You can also try putting them onto the directory of where your installation setup is. I didn't put the download links here because I do not own these files. It's best for you to find the latest up to date dll files from search engine. Just Google "ISDone.dll ISArcExtract Unarc.dll Download" (just the one that you need) and they will usually be on the first page of the results.
Solution 3: This may sounds a little unprofessional but there was once this error appeared when I have insufficient HDD space and coincidentally one of my RAM was down. Make sure you have enough space for what you're going to install. You may need more space than the required space because some of your programs or even your OS may need extra empty space for system reservations. Also, check if your RAM is running fine and that you have enough ram for what you do (preferably 4GB+ for advanced and huge stuffs).
Share and Like!
Looking For Something?