Download DirectX 11,11.2,10,9 Full Free for Windows 8.1,8,7 64 bit or 32 bit
Filed in » Problems and Solutions 3

Submitted by Serene
If for some reasons you have come across problem or software error that requires you to update or install the correct version of DirectX, you have come to the right place. Here we will show you several important facts about DirectX and how to determine the version that best suit your needs along with a list of download links for DirectX 11.2, 11, 10 free and full standalone offline installer and 9.0c End User Runtime for Windows 8.1,8,7 64 bit or 32 bit. As for Windows 10, we will talk about DirectX 12 download for Windows 10.
What is DirectX? Why do you need it?
The intention of this post is to provide you with things you need to know about DirectX and the DirectX version that best suit your needs and your operating system. Well, first we'll have to understand it before we can determine the right DirectX version to use. DirectX is a collection of APIs (Application Programming Interfaces) that allows Windows programs especially high graphical software such as games and video players to be able to handle the tasks related to multimedia.
In short, it helps improving the video and gaming experience if you have the latest version of DirectX installed. Some software and programs even relies on certain version of DirectX and without it they couldn't be run.
Finding out the current DirectX version of your System
If you're not sure if your system has the latest and correct version of DirectX, you'll have to check the current version of your system's DirectX, and download the correct and updated version accordingly. To check the DirectX version of your system, go to Start, type "dxdiag" and hit enter. The directX version will be shown as the last line within the System information column.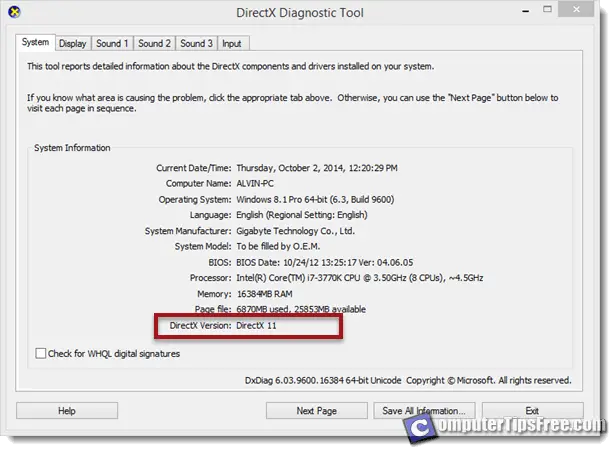 The latest DirectX versions for respective Windows Operating System
Not all the latest versions of DirectX are compatible with the old versions of Windows OS. You will have to install the correct DirectX version that support your system accordingly. Below is a list of latest DirectX versions and their supported Windows OS versions.
Windows 8.1 – DirectX 11.2
Windows 8, Windows 7 Service Pack 1 – DirectX 11.1
Windows 7, Windows Vista SP2 – DirectX 11.0
Windows Vista SP1 or later – DirectX 10.1
Windows Vista – DirectX 10.0
Windows XP – DirectX 9.0c
However, the list above only shows the latest DirectX version that the system can possibly be compatible with. When you are using, let's say, Windows 8, there'll be programs that can only run with older DirectX version such as DirectX 9.0c. If that's the case, you will have to install and update the older version of DirectX while keeping your latest DirectX 11. We will explain more about it later.
Download DirectX via Windows Update
By default, DirectX comes with Windows itself. When you first installed your Windows, it should already have the latest DirectX version up to the time you installed. Well, as time goes by, there could be updates for your current DirectX version. In order to keep the DirectX version up to the latest date, you will have to run Windows Update. By default, Windows Update will always run automatically unless you've disabled it. For DirectX 11.2, Windows Update is the only source to get it installed on your Windows 8.1 system.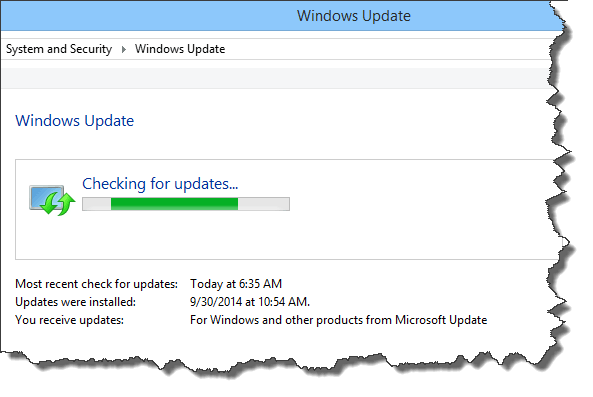 "The program can't start because d3dx9_35.dll is missing from your computer. Try reinstalling the program to fix this problem."
If you're getting error message similar to this, or with other missing dll such as d3dx9_24.dll, d3dx10.dll, d3dx11_42.dll, d3dcsx_42.dll or d3dcompiler_33.dll, when you were running a program of software, it most likely means that this software will only run on an older version of DirectX which cannot be found in your system. In this case, you will need to run DirectX End-User Runtime which supports DirectX version up to DirectX 9.0C. By running this installer, it will automatically update all older versions prior to DirectX 10 while keeping your current version of DirectX.
End-User Runtime web installer – A small size installer that requires internet to download the latest updates from Microsoft automatically.
End-User Runtime standalone offline installer (june 2010) – For computers which do not have access to the internet during installation.
Download DirectX 11,11.1,9.0c Standalone offline installer
If for any reason Windows Update is out of the question, there are standalone offline installers for DirectX 11.1, 11 and 9.0C which you can download from Microsoft. There isn't one so far for DirectX 11.2 and Windows Update is the only way to obtain it. Download DirectX 11, 11.1 free and full standalone offline installer and 9.0c End User Runtime for Windows 8, 7, Vista and XP 64 bit or 32 bit. You will notice that the following links will lead you to download pages for certain windows packages. It is completely normal because the DirectX as stated are within the package that you're about to downlaod and install. Here's the list of download links from Microsoft website:
Share and Like!
Looking For Something?